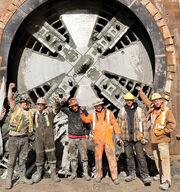 What I find the most interesting about this expansion is how the tunnels are being built. The tunnels are slowly being created by Tunnel Boring Machines that create 15 meters each day.  This extension will measure 8.6 kilometers in total ending at the Vaughan Metropolitan Centre at Jane and Hwy 7.
Ad blocker interference detected!
Wikia is a free-to-use site that makes money from advertising. We have a modified experience for viewers using ad blockers

Wikia is not accessible if you've made further modifications. Remove the custom ad blocker rule(s) and the page will load as expected.